Följ kampanjen för en ovillkorlig basinkomst som startar i Finland. Läs mer här under och titta in på kampanjens websida.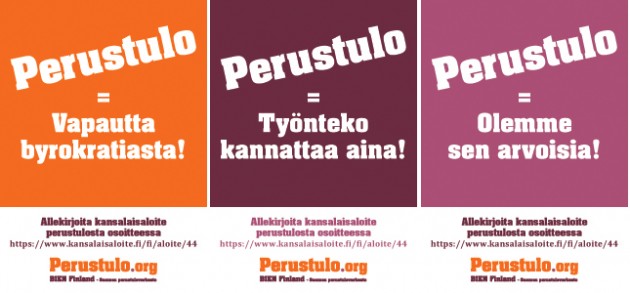 FINLAND: Campaign for basic income launched
[Vivan Storlund – Suomen Perustuloverkosto (BIEN Finland) – February 2013]
On 1 February 2013 a campaign for an unconditional basic income was launched in Finland. This was a historic moment, as the possibility to present citizen's initiatives is as new in Finland as the one in the European Union. There is one difference between the EU and Finnish citizens' initiative. The EU citizens' initiative is addressed to the Commission, whereas in Finland, it is the Parliament that will decide on the initiatives. So now the initiative has the opportunity to test Finnish citizens' democratic muscle. 50,000 signatures are required from a population of close to 5.5 million. The result of the first day was more than 3,100 electronic signatures and some 100 signatures on paper forms.
These are the central points in the Finnish initiative:
–  A basic income should be introduced to an amount covering at least the present basic social security entitlements and it should be designed in such a way that it does not reduce the income or entitlements of low-income earners.
– The basic income should be seen as a citizen's right to an income free of means testing.
– It would secure means necessary for a life of dignity as required both by the Finnish Constitution and international human rights conventions.
– It would secure a comprehensive income to all and in all situations, avoiding thereby that groups of people would be excluded from the social security systems. This is a requirement that has also been expressed by the Parliament's Constitutional Law Committee during the reform of the basic rights and liberties provisions embedded in the present constitution.
– It should be unconditional, paid automatically to all persons independently of other incomes or choices in life.
The initiative stresses the need for a basic income because of the structural uncertainties in the labour market, caused by the increase in short-term or part-time work as well as different forms of self-employment. In addition, there are increasing problems in combining different social security benefits based on need with other kinds of entitlements, income from work and entrepreneurship. Paid employment and the current social security do not offer sufficient continuity in income. Through a basic income, a more egalitarian and just welfare state can be created. On these grounds Finnish citizens demand that their MPs start preparing legislation for the introduction of a basic income.
As of February 2013, the initiative has 7,500 signatures.